Velindre celebrates staff as its Employee Excellence Awards return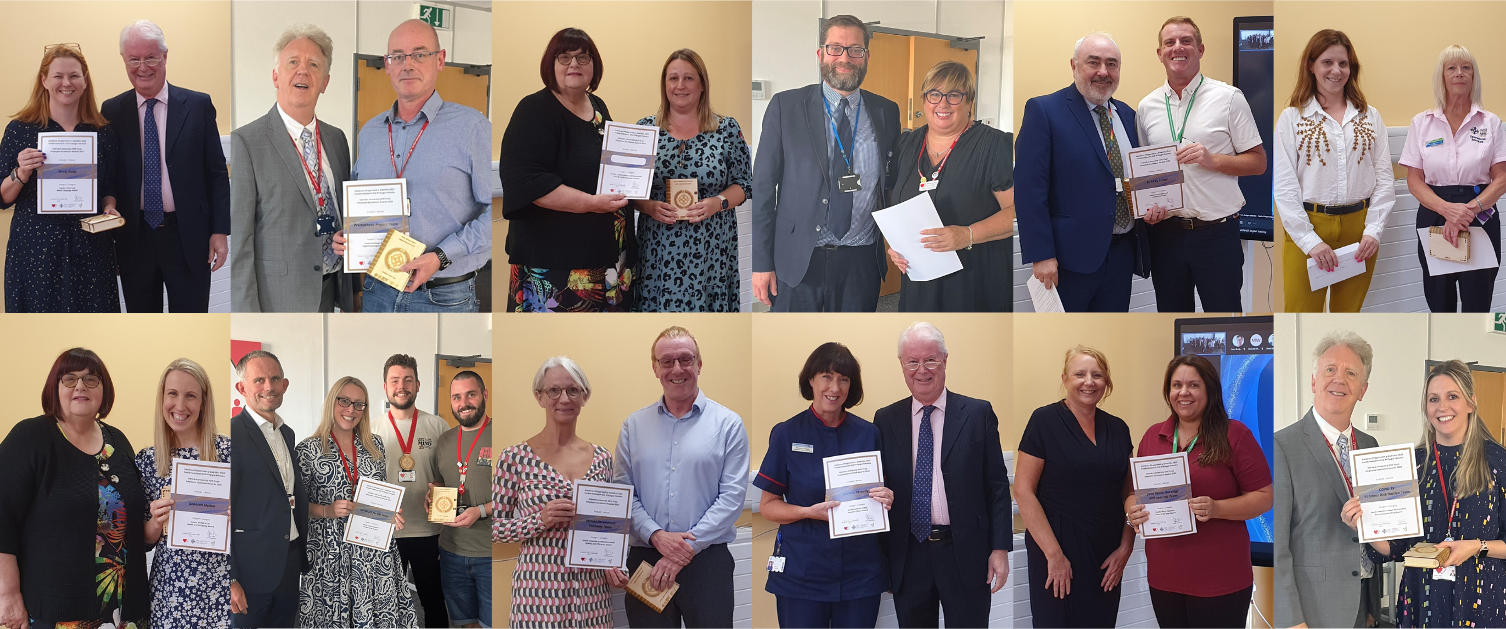 18 October 2023
A total of 16 awards were presented to individuals, teams and projects from across Velindre University NHS Trust at its returning Employee Excellence Awards 2023.
The awards were last held in 2019 before the Coronavirus (COVID-19) pandemic and their comeback was a welcome opportunity to celebrate life-changing work that is taking place.
There were more than 180 inspirational nominations for the awards, including 30 from members of the public, which demonstrates the depth of amazing achievements from across the Trust.
At the centre of nominations was a focus on how staff in Corporate Services, Velindre Cancer Centre and the Welsh Blood Service have enhanced experienced and outcomes for donors, patients and partners.
Claire Budgen, Head of Organisational Development and Lead for the Working Group that organised the awards, said:
"To put these awards on after their absence during the pandemic was a privilege and we're so proud to shine a spotlight on our amazing workforce. Staff across the Trust make a difference every say and it's important that they receive the recognition they deserve. We'd like to say a huge well done to those shortlisted and our winners.

"Sharing improvements and inspiring innovation is as important as ever for the NHS, and we know there are success stories behind every nomination. Thank you to everyone who took the time to enter our awards. We're already looking forward to next year's celebration."
The full list of winners includes:
Education, Research and Innovation Award
Immunotherapy CNS Team, Velindre Cancer Centre

Equality, Diversity and Human Rights Award
Leigh Porter, Patient Support Services Manager, Velindre Cancer Centre

Going The Extra Mile Award
Operational Services, Velindre Cancer Centre

Health and Wellbeing Award
Deborah Mullan, Therapies Assistant, Velindre Cancer Centre

Improving Donor Experience Award
Collections – West Team, Welsh Blood Service

Improving Patient Experience Award
Immunotherapy Toxicity Service, Velindre Cancer Centre

Leadership Award
Ricky Frazer, Velindre Cancer Centre

Partnership Award
COVID-19 Vaccines Distribution Project, Vaccine Team, Welsh Blood Service

People's Choice Award
Michele Pengelly, Specialist Nurse in Supportive Care, Velindre Cancer Centre

Team of the Year
Joint Neuro-Oncology Allied Health Professionals (AHP) and Clinical Nurse Specialists (CNS) Team, Velindre Cancer Centre

Quality and Efficiency Award
Virtual Assessment Pathway (VAP) Team, Velindre Cancer Centre

Sustainability Award
UK NEQAS for Histocompatibility and Immunogenetics, Welsh Blood Service

Volunteer Award
Seren and Morgan Lewis-Daw, Veggies for Velindre

Digital Development Award
Prometheus Project Team, Welsh Blood Service

Welsh Language Award
Kirsty Huey, Radiographer, Velindre Cancer Centre

Chair & Chief Executive Award
Hannah Russon, Lead School of Oncology Project, Velindre Cancer Centre
The hybrid awards ceremony took place both in-person and online, with nominees invited to attend either at the Welsh Blood Service headquarters or at Velindre Cancer Centre, with many more staff from across the Trust joining virtually.