Inspirational former cancer patient bounces back with the bat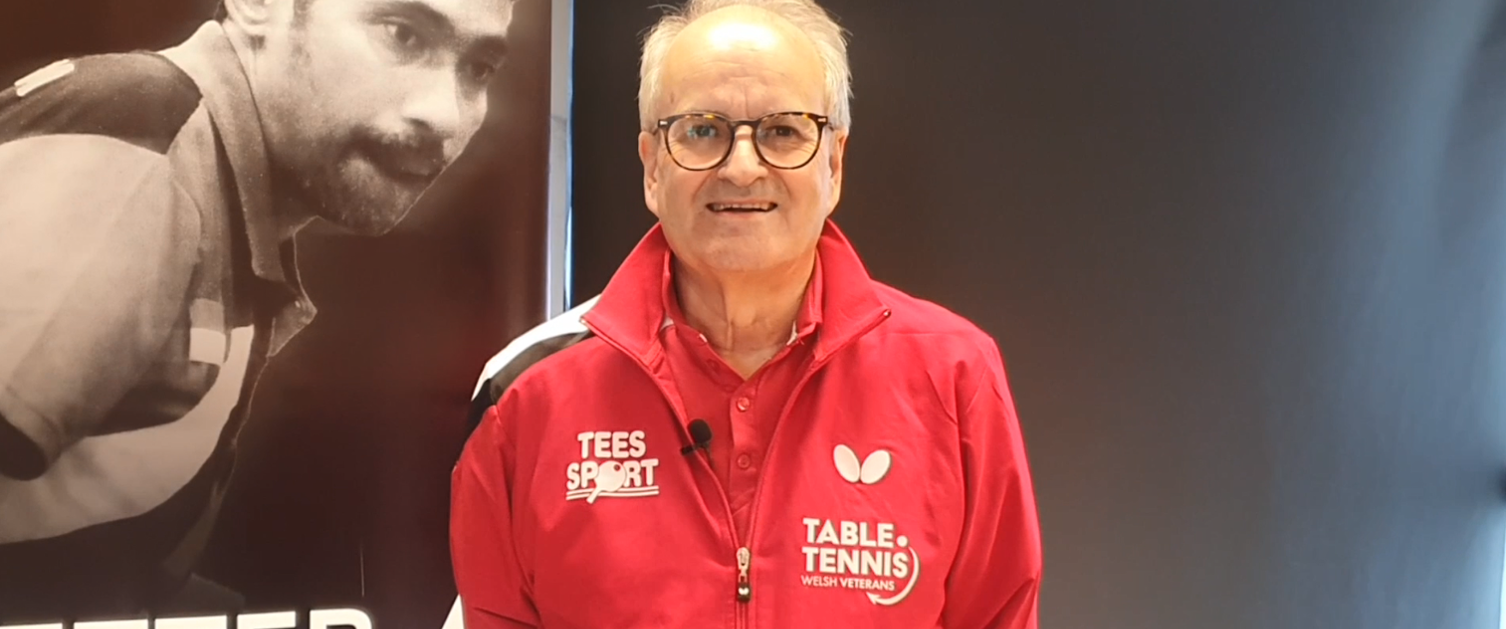 A table tennis champion has paid tribute to the treatment he received at Velindre Cancer Centre for helping him to return to full health and winning national competitions, and wants to offer hope to others.
Steve Eades, 62 from Cardiff, was diagnosed with Stage 4 non-Hodgkin's Lymphoma in 2011. Now cancer-free, the table tennis enthusiast has bounced back with the bat to win a prestigious accolade.
In September, Steve confirmed his position as the best table tennis player in his age in the UK by taking a gold medal at the Home Countries Veterans International Championships in the Isle of Man, batting off competition from across the country.
"The nurses I can't speak highly [enough] of and the staff were absolutely marvellous, and they got me well," said Steve, talking about his time at Velindre Cancer Centre.
"From the moment that I went into their care nothing was too difficult for them. From the person who cleaned the skirtings and the floors, to the person that dealt with my medication, to the nurse that came in every night just to check how I was, everything was a wonderful experience.
"Thank you for giving my life back."
Facing cancer
Cancer was a challenge Steve didn't expect to face. It was during a routine scan at the University Hospital of Wales in early 2011 that he was first alerted to concern. What had been a typical Friday afternoon soon changed and he waited to see a doctor the following Monday.
Steve underwent six weeks of testing in University Hospital Llandough after a shadow was discovered on his lung. After having a thoracotomy, in which a cut is made between the ribs to reach the lungs, he then had the diagnosis of the Non-Hodgkin's Large Diffused B-Cell Active Lymphoma. He was then immediately referred to Velindre, who confirmed his diagnosis to be Stage 4.
Over the next seven months, Steve received six courses of R-CHOP treatment, a cancer drug combination that commonly used for non-Hodgkin Lymphoma. Spells of pneumonia and isolation were stumbling blocks, but he was relieved when a CT scan showed the tumour was shrinking.
The latter stages of the R-CHOP treatment did take its toll on Steve, who admits he struggled at times. "I was so tired, I lost my hair at that stage," Steve candidly recalled, "but they kept telling me they had to make me sick to make me well. Having gone through the process, they couldn't have been more right."
He then received the amazing news of an all-clear in 2014.
Batting back
Life after cancer can mean many different things to many people. Having cancer can make some people uncertain about the future, while others are eager to get back to their normal activities as soon as possible.
For Steve, he found comfort in his favourite past-time and picked up the paddle with encouragement from those closest to him.
"I could have very well have sat back and decided I wanted a quiet life and didn't want to get too involved in competition again, but people around me encouraged me to pick up my bat again.
A lover of sport since childhood, Steve began his table tennis journey as a 12-year-old. He has since become a familiar face on the scene in his home city and across Wales.
Post-cancer, Steve has travelled the world thanks to table tennis and it culminated in his recent triumph on the Isle of Man.
This year's Home Countries Veterans International Championships saw Steve come home with the gold medal in the Men's Over 60s category, amidst fierce competition from his rivals across the UK.
The annual competition, held this year in Douglas, sees the best players from Wales, England, Scotland, Ireland, Jersey and Guernsey compete for the title in different gender and age categories.
To put his win into context, there are approximately 1,000 registered table tennis players at all levels in Wales, whereas England alone has just under 40,000.
A message of hope
One in two people in the UK born after 1960 will be diagnosed with some form of cancer during their lifetime (Cancer Research UK), and Steve wants his story to offer hope to people in similar situations.
"My message to everyone who is going through this, and it is a process and it can be extremely difficult, is don't give up on where you want to be," he said at his beloved table tennis club in Roath, Cardiff.
"You can make the life whatever you want it to be. It takes time but as long as you've got perseverance and positivity in yourself, you can achieve anything that you wish to achieve."