Your People's Choice winner is...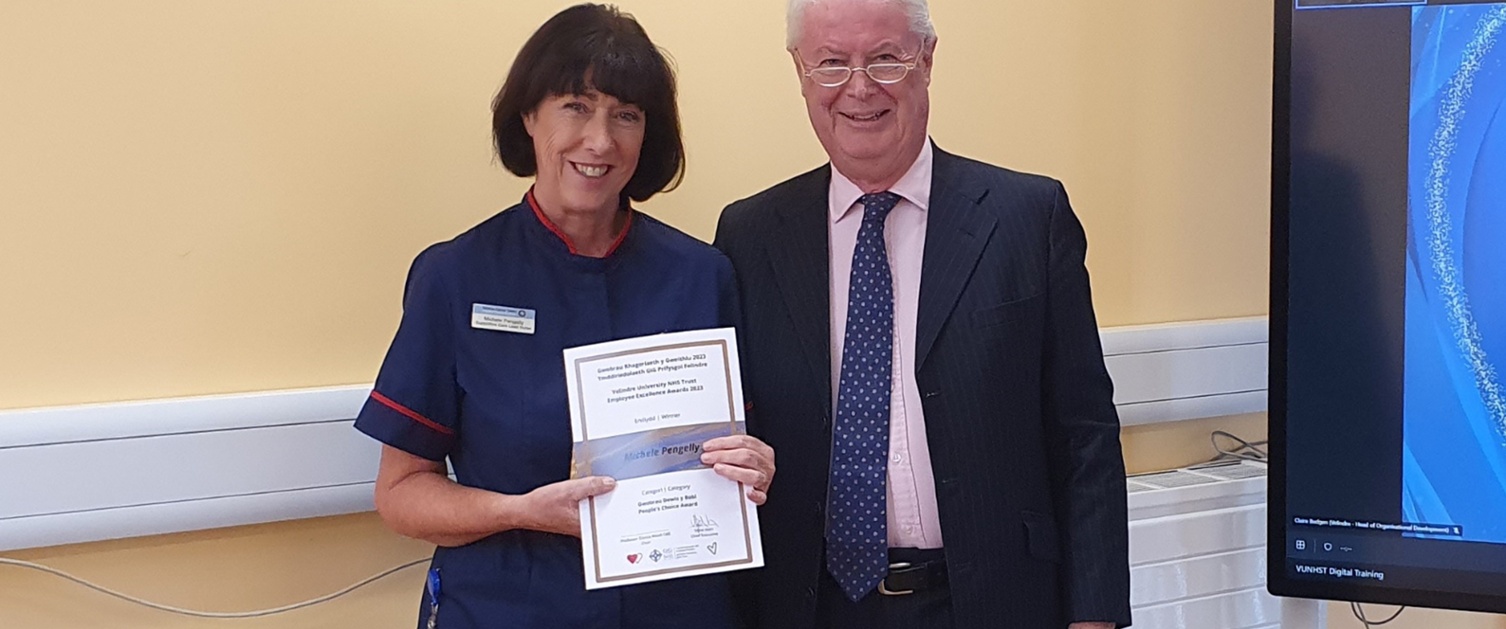 4 October 2023
The People's Choice Award was presented on Friday as part of the Velindre University NHS Trust Employee Excellence Awards.
Having received a number of public nominations following a call via our various channels, the winner of the award was Michele Pengelly, a Supportive Care Lead Nurse at Velindre Cancer Centre.
Michele was described as an "exceptional" lady who works all hours to care for her patients and their relatives, whilst another nominator said: "I really don't know how Velindre would cope without her."
Many detailed the way she went above and beyond for her patients and their families during their treatment, with one nominator saying how she took his children on a "VIP tour" of the Cancer Centre to help them better understand their father's treatment, and another explaining how her care and compassion for her and her family meant she "instantly felt like a friend."
There were two teams also shortlisted for the People's Choice Award, the Apheresis Team at the Welsh Blood Service, for providing a consistently excellent service, making people feel welcome and happy to return for future donations; and the New Velindre Cancer Centre Project Team, for maintaining commitment to delivering the project by working hard individually and collectively.
We greatly valued the engagement from the public in this category and how meaningful it is to have patients and donors send us praise and feedback.
'Incredible support and navigation'
Michele recently celebrated a milestone 40 years of nursing, almost all of which have been at Velindre, and had launched a series of fundraising challenges to mark the occasion.
'The Big 40 Challenge' raised over £4,000 to help fund the children's resources at the Cancer Centre, which Michele was pivotal in setting up.
The children's resources include educational books which help explain a cancer diagnosis to a child, a pair of parent and child lion toys, 'worry monsters' to help children open up about their fears and concerns, and memory boxes in which to store special items relating to their loved ones.
Each £10 donated was enough to supply a child with a resource, meaning Michele's challenge raised enough to support over 400 families during an incredibly difficult period in their life.