Welcome to V-TV!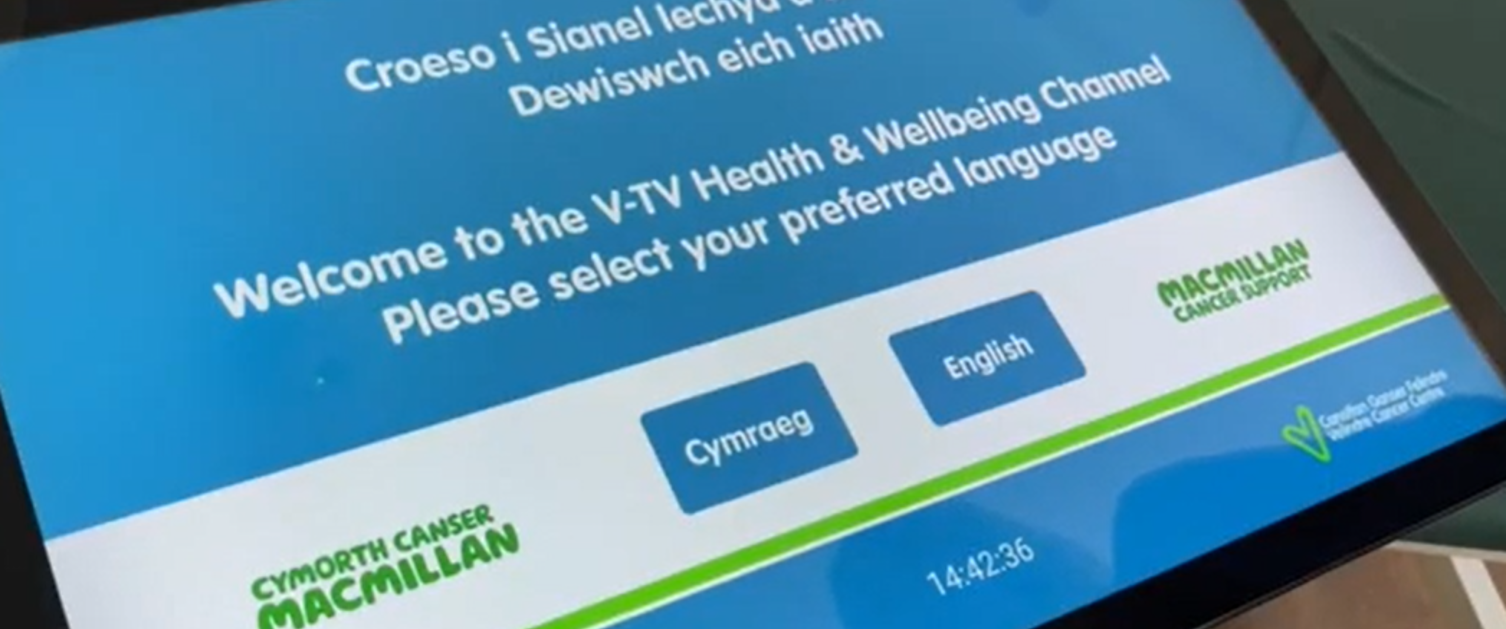 19 June 2023
Velindre Cancer Centre is proud to launch its brand-new TV service.
From Monday 19 June, inpatients on the first-floor ward will be able to access the V-TV Health & Wellbeing channel, which provides a wide variety of information to aid them during their stay.
The touchscreen TV will offer an insight into who's who on the ward, a series of bed and chair exercises and a welcome message from Shane Williams, a Velindre patron.
V-TV will also give inpatients an opportunity to provide feedback on their stay by taking part in a short survey, which can be completed in their own time.
Kate Baker, Macmillan Head of Therapies at Velindre Cancer Centre, said:
"We are really excited to launch the pilot of V-TV, health and wellbeing channel. The concept of the channel was first born during the pandemic when we knew we wanted to give information to inpatients that was easily accessible 24/7, that they can watch in their own time and as often as they like. During the pilot, we hope to gather feedback from patients to enable us to develop phase 2, and build on the information currently available on the channel."
V-TV has been funded by Macmillan Cancer Support, who contributed £15,000 to the project through the Support Grant for Healthcare Professionals.
Jonathan Long, Partnership Manager for Macmillan Cancer Support, said:
"Macmillan is delighted to have funded the Velindre TV project for inpatients at Velindre Cancer Centre so they can get the information they need seven days a week. We are proud of our longstanding partnership with Velindre, which means people treated for cancer can access Macmillan professionals, such as our welfare benefits advisors, nurses and therapies teams, at the centre thanks to our supporters."
The first phase of the service will see one TV screen being installed at the far end of the first-floor ward in C Bay for a trial period of three months.
Following this, the channel will seek to enrich the patient experience by gathering more information from partner organisations to support patients during they stay.
In the future, it is planned that V-TV will roll out to more beds across the new Velindre Cancer Centre, thus giving patients a greater opportunity to access the information on offer at a time which suits them.