Velindre University NHS Trust achieves prestigious Armed Forces gold award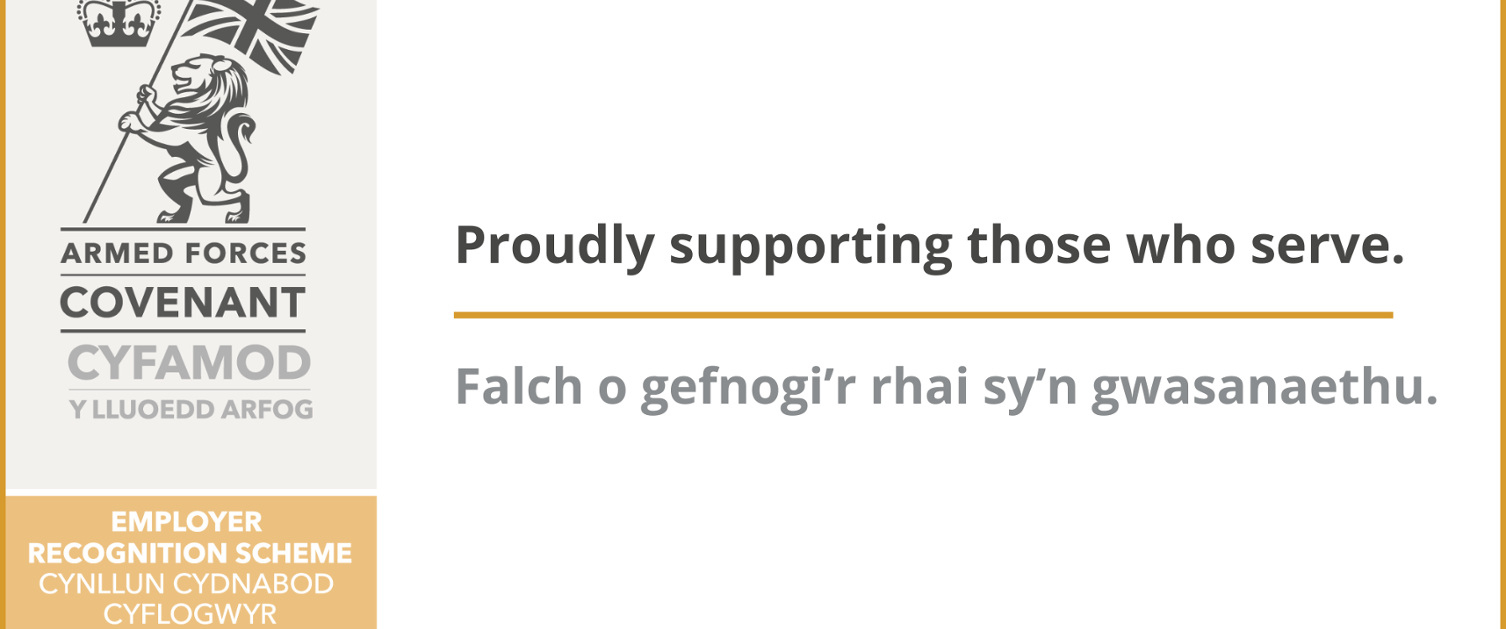 18 July 2023
Nearly 200 organisations have been recognised by the UK Government for supporting the Armed Forces community, a record high since the Defence Employer Recognition Scheme launched in 2013.
Velindre University NHS Trust is proud to be one of just 10 organisations in Wales in 2023 to receive the Defence Employer Recognition Scheme Gold Award, the highest badge of honour, which recognises the positive role that employers play in supporting the Armed Forces community.
This year, organisations across a range of sectors including transportation, education, finance, and healthcare have been recognised in the awards.
Minister for Defence People, Veterans and Service Families, Dr Andrew Murrison said:
"I would like to thank all the organisations that have been recognised in this year's awards. I'm delighted that we have seen so many organisations recognised with a gold award. Their continued support demonstrates the unique benefits and strengths that our Armed Forces community can bring to the workplace."
The Defence Employer Recognition Scheme, delivered by Defence Relationship Management, has a current total of 641 holders. Organisations must reapply every five years to retain their Gold Award status.
To win a Gold award from the Ministry of Defence, organisations must provide 10 extra paid days leave for reservists, and have supportive HR policies in place for reservists, veterans, Cadet Force Adult Volunteers and the spouses and partners of those serving in the Armed Forces.
They must also advocate the benefits of supporting those within the Armed Forces community, by encouraging other organisations to sign the Armed Forces Covenant and engage with the Employer Recognition Scheme.
Velindre University NHS Trust has taken a number of steps to provide additional support to the Armed Forces community, including (but not limited to):
An Armed Forces Network to support employees who are Reservists, Veterans and spouses/partners.
Support teams of staff to take part in Exercise Medical Stretch, resulting in members of staff becoming Reservists at 203 Field Hospital.
Armed Forces involvement at Trust Board meetings and 'lunch and learn' events.
Reservists involvement in Business Continuity Planning arrangements.
Memorandum of Understanding (MoU) 203 (Welsh) Field Hospital, including the launch of a joint Clinical Excellence Award.
Commitment to the Royal College of Nursing (RCN) Prince of Wales Cadet Scheme which provides nursing cadets structured placements at VCC and the Welsh Blood Service (WBS).
Joined the Career Transition Partnership and committed to a guaranteed interview process for those that meet essential skills criteria.
Working towards the Veterans Aware Accreditation and setting up an Amed Forces Steering Group to cover both workforce and patient pathways.