Velindre librarian named in top 125 list for next generation of specialist leaders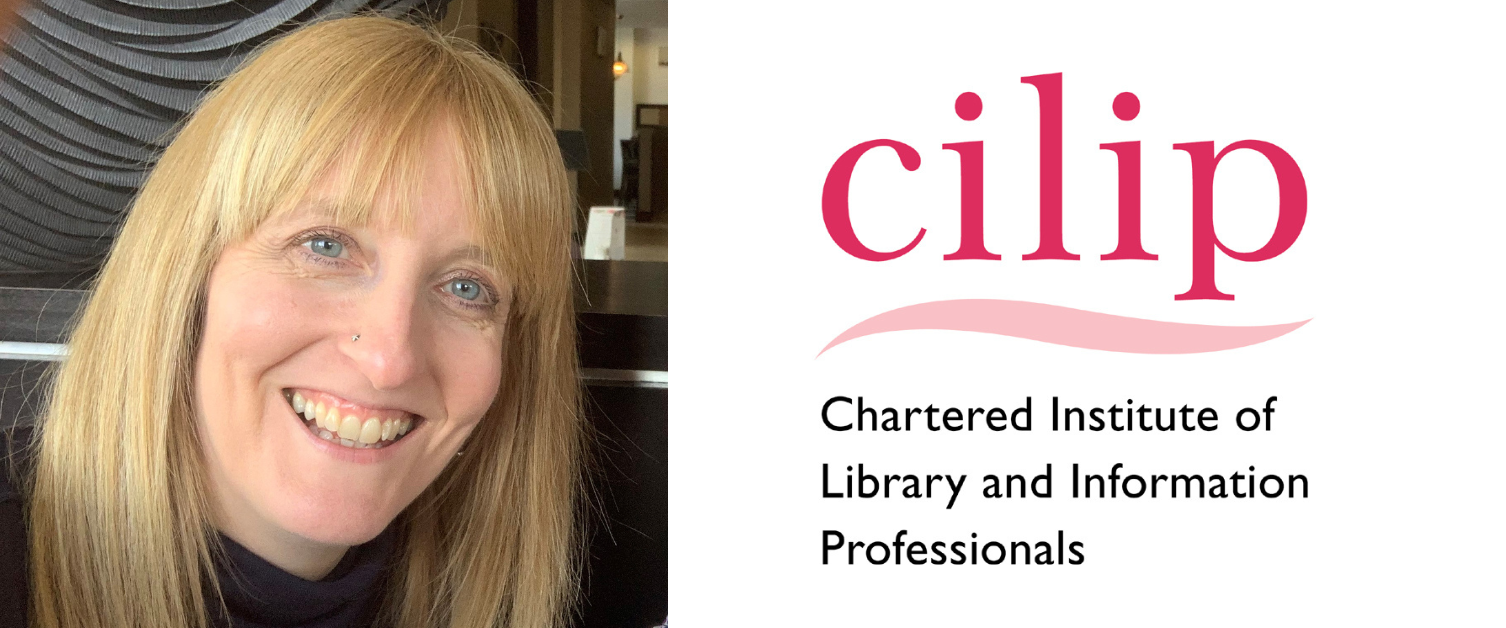 24 July 2023
We're excited to announce that one of our library staff has been named on the list of the top 125 movers and shakers of the next generation of library and information specialist leaders.
Anne Cleves, our Assistant Library Manager and Assistant Information Specialist, has received the special recognition from the Chartered Institute of Library and Information Professionals (CILIP).
The list has been put together to celebrate the 125th anniversary of the granting of CILIP's Royal Charter. CILIP's members were asked to nominate individuals for the list who drive positive change and make a difference, and Anne's influential role was deservedly acknowledged.
Anne, who has worked for the Trust for 19 years, is proud to be described as one of the specialist professionals who will help lead the sector into a new age of information. She said:
"I am honoured to have been nominated and included in this list of amazing information professionals, which highlights the breath and strength of the profession. As the digital world continues to evolve libraries and their skilled staff are as important today as they were 125 years ago and I am proud to be counted as one of them."
A satellite site of Cardiff University Library Services, the Trust's Library and Knowledge Service provides a full library service to support NHS and academic staff, students and health professionals.
The service includes a physical specialist cancer library based at Velindre Cancer Centre, the only one of its kind in Wales, which is available on a 24-hour basis to Trust staff. A remote service is provided to the Welsh Blood Service, Velindre HQ and other hosted bodies, such as Health Technology Wales.
One of the key services provided by Anne and her colleagues are literature searches, which are used to inform patient care, research, service development, and innovation. These searches help colleagues to find up to date information for all kinds of health-related questions by examining several different databases and collating the findings, ensuring decisions are evidence based.
Not only does Anne conduct these skilled searches herself, but she also helps to upskill staff across the Trust and improve efficiencies by advising ways they can keep on top of the scores of new literature published on a daily basis.
To help staff in their respective subject areas, Anne helps to increase the use and understanding of key resources, including databases, e-journals, KnowledgeShare, NHS Wales libraries, Journal Alerts, Database Alerts, RSS Feeds, and newsletters.
Nick Poole, CILIP Chief Executive Officer, said:
"As we face more change and opportunity in the coming years, navigating a rapidly evolving digital landscape, with the added challenges of censorship and disinformation, and an increasingly urgent need to live and work in more sustainable ways, these 125 new professionals will be leading the way.

"This is a set of passionate individuals, contributing energy, knowledge and impact to the institutions, organisations and communities they serve.

"Over 125 years our members have seen advances in science and technology and played our part in research and development. We've experienced societal change and are working hard to combat a rise in disinformation.

"We've lived through challenged economies, weathered a decline in funding whilst simultaneously fighting for social justice, offered spaces of sanctuary, warmth and safety to those who are displaced, challenged by costs of living or seeking support and access to vital information in a neutral environment."