Velindre achieves gold accreditation for Aseptic Non-Touch Technique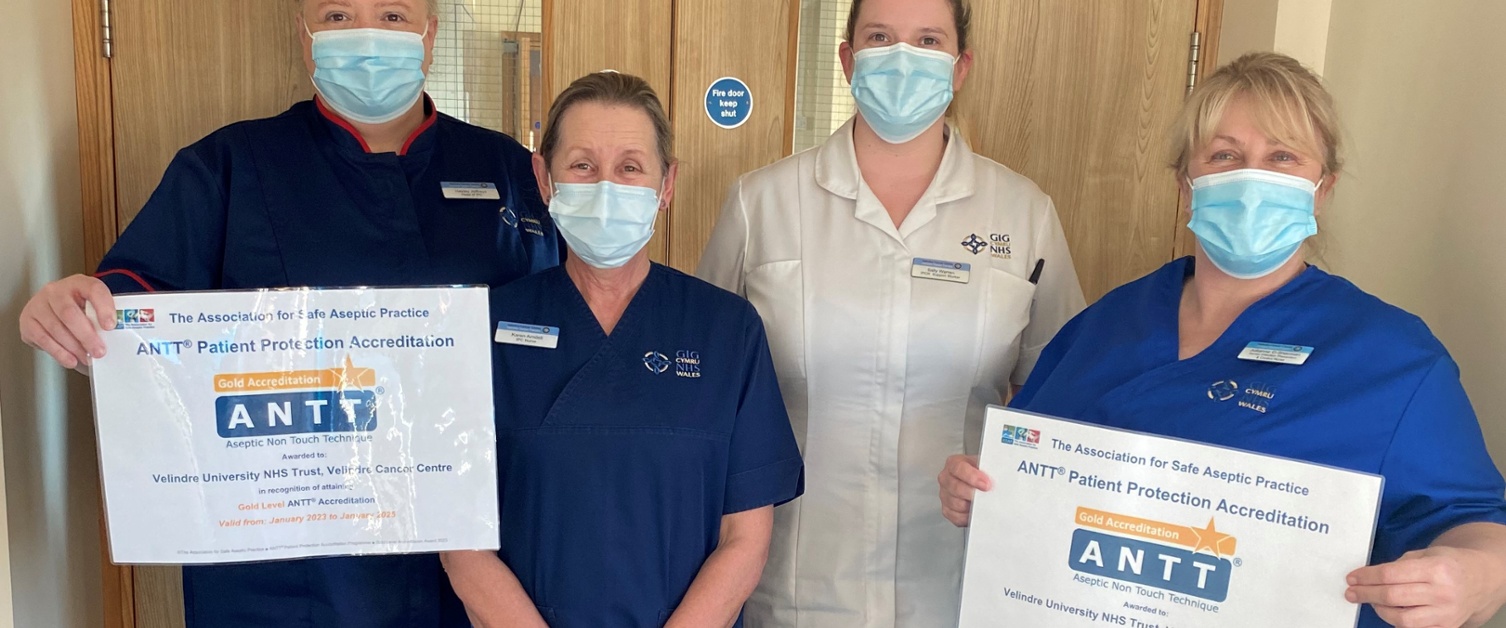 31 January 2023
Velindre University NHS Trust has become the first NHS organisation in Wales to achieve gold accreditation for Aseptic Non-Touch Technique (ANTT).
ANTT is the strategic practice of preventing healthcare-associated infections and it was developed using research-based evidence. The ANTT framework provides a standard for safe and effective practices that can be applied to all clinical procedures, therefore reducing variation and confusion. The main principle to follow is keeping the 'key parts' and 'key sites' protected to prevent infection.
Hayley Harrison Jeffreys, Head of Infection Prevention and Control, was the strategic lead for the implementation of ANTT at Velindre University NHS Trust, which includes Velindre Cancer Centre and the Welsh Blood Service.
"We're really proud to be first NHS health board or trust in Wales to achieve ANTT gold accreditation," said Hayley, who led the accreditation process.
"The dedication of our staff is second to none and the way we met the challenge has inspired me. It's not only crucial that we demonstrate our commitment to patient safety, but that we have the robust clinical governance in place so that the public can be confident that we're doing everything we can to deliver the best possible care at all times."
ANTT accreditation is based on having effective elements in place for policy, education, assessment, and monitoring. There are many benefits to meeting and upholding the ANTT's strict standards, such as:
Improving patient safety by supporting effective education, competency assessment and safe clinical practice
Standardising aseptic technique across organisations and countries, and reduces variability in practice
Providing a foundation for the effective clinical governance of aseptic technique
Helping protect and reassure patients by providing more consistent standardized aseptic technique
The Association for Safe Aseptic Practice (ASAP) is a UK-based non-profit clinical organisation that oversees ANTT accreditation. The organisation is run by clinicians to improve standards and effectiveness of aseptic technique in clinical practice through education, training, clinical practice, research, quality assurance, and advice to industry.