Velindre Cancer Centre named Cardiff & Vale College award winner for BAME health awareness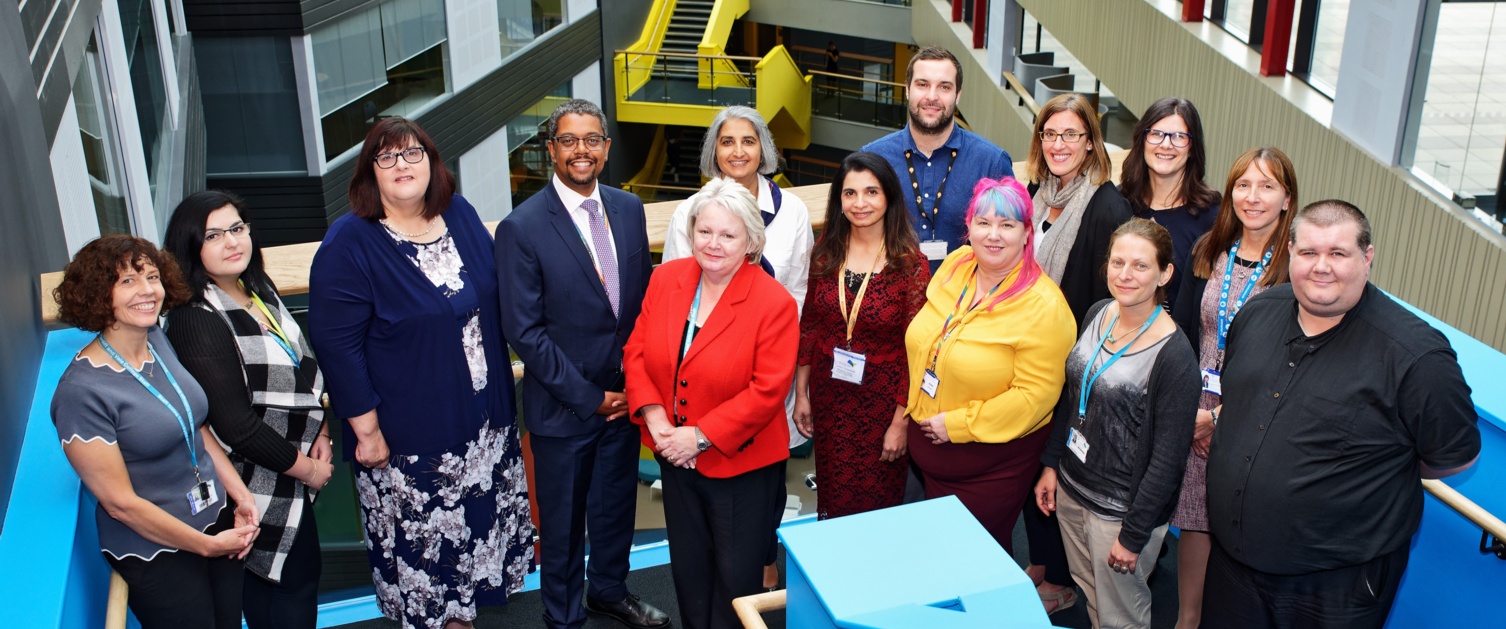 Over the last five years, Velindre Cancer Centre (VCC) has been working with Cardiff & Vale College (CAVC) to develop a health awareness resources and tools for BAME communities as part of the English Speakers of Other Languages (ESOL) curriculum. This work was recognised at CAVC annual awards, where in a virtual ceremony, VCC was named the Business and Partner award winner.
Approximately 240 ESOL students a year are using the resources produced by VCC and CAVC, which is a total of around 1,200 people over the last five years becoming health ambassadors and promoting healthy living and cancer awareness information from Velindre to their communities.
The three ESOL + Health course resources were developed between VCC, CAVC and partner organisations such as Public Health Wales and Welsh Blood Service, allowing students to achieve a 3 credit Agored ESOL+ Health certificate, which is in its third year. So far, 32 students have achieved their certificate and another 16 are on the course for this year. The resources have also been disseminated to other ESOL providers across Wales, including Adult Learning Wales and ACE Cardiff and Cathays High School.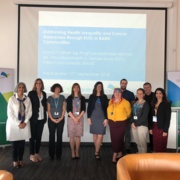 Dr Seema Arif, consultant oncologist at Velindre Cancer Centre and clinical lead for the project said, "Over the last five years, it has been amazing to see the number of ESOL students coming through CAVC and the partner providers, so that they have access to health information. This has huge benefits in terms of 'ripple effect'- ESOL students can disseminate their health knowledge to family and friends to improve and save lives in Wales by tapping into the appropriate screening programmes and health facilities. There was a huge gap in health knowledge, but hopefully we have been able to change that in the longer term. I would like to thank CAVC for recognising Velindre's pivotal role in making this project possible.
"It has been a challenge to demonstrate the importance of knowing this information, as we had to unravel myths and folklore which come with the diversity of the cultures that are part of the ESOL classes. However, with more than a thousand people now being educated and 32 achieving the Agored certificate, it shows that the BAME communities have health ambassadors that people can relate to.
"This project would not have been possible without the Velindre charitable funds sponsorship, and have generously funded this project, year after year; all of which is driven by generous donations and the work of the fundraising team. It meant that we were able to provide a contribution towards a dedicated ESOL teacher based out of CAVC. VCC have shown that they are in the forefront of healthcare prevention and treatments."
The BAME health awareness lessons and resources in the five years have covered:
• Health in the UK and healthy living (including sensitive topics such as FGM)
• Cancer screening (including the HPV vaccine, male cancers)
• Palliative care services
• Blood donation in BAME communities
• COVID-19 covering hygiene and vaccine (it was originally organ donation)
Kay Martin, Principal of Cardiff and Vale College, said, "Velindre is a charity very close to our hearts at CAVC, so I am delighted that they have won a Business and Partner Award at our Annual Awards this year.
"CAVC, Public Health Wales and Velindre Cancer Centre worked in an extremely close partnership to establish a pioneering project to provide education information about cancer awareness, Covid-19 and a range of other health issues to BAME communities. With the help of Velindre's consultant oncologist Dr Seema Arif, we secured funding to embed health information in our English for Speakers of Other Languages (ESOL) curriculum, which is also shared in outreach work in the community across Wales.
"This project has been hugely successful at an extremely important time, and without the support of Velindre and Dr Asif it would not have been possible to carry it out. That is why we are celebrating Velindre at our Annual Awards this year."
The CAVC awards were held virtually on Tuesday 15 December 2020, streamed live on the college's YouTube channel and hosted by TV and radio broadcaster, as well as former CAVC student, Jason Mohammad.
For more information about ESOL and the course, visit www.cavc.ac.uk/en/esolplus