Overwhelming support shown for changes to radiotherapy services and new satellite centre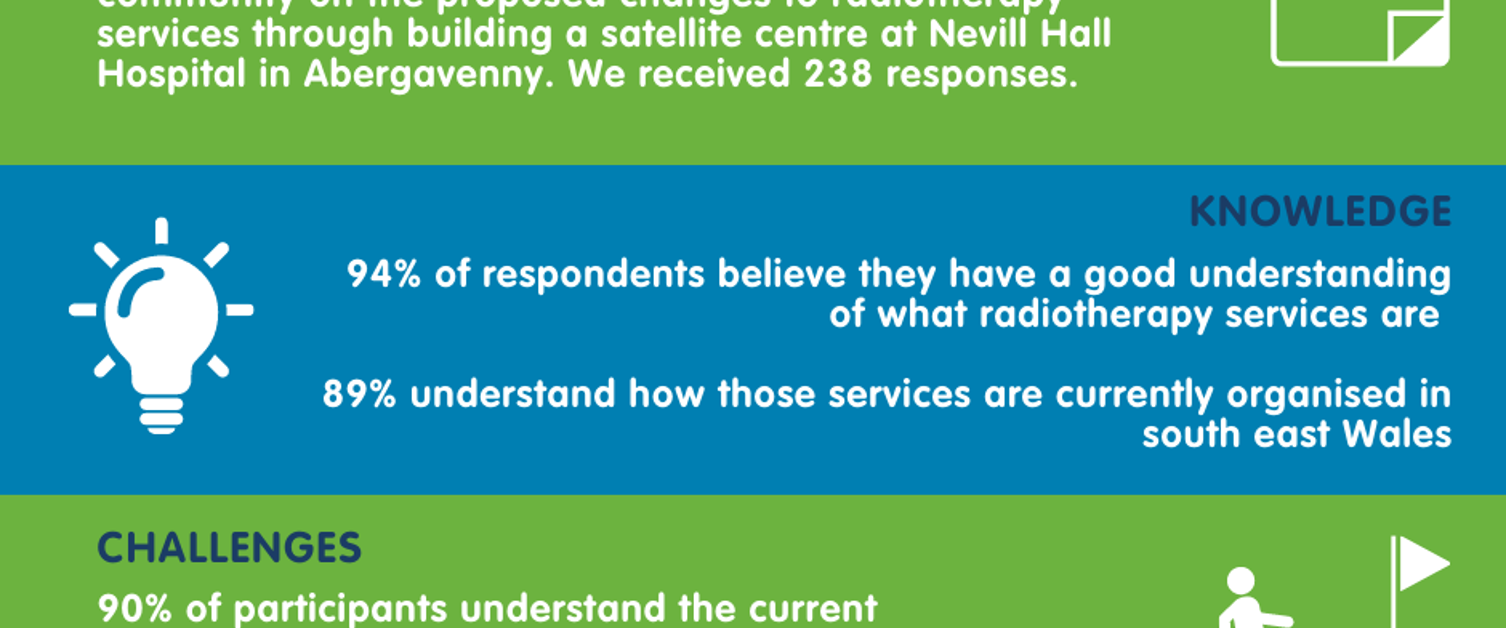 During summer 2021, as part of its commitment to transforming cancer services in south east Wales, Velindre University NHS Trust (VUNHST) launched a service change engagement process proposing changes to the radiotherapy services that would be delivered through the new planned satellite centre at Nevill Hall Hospital. The engagement sought the views of patients, staff and the community and was delivered in collaboration with the Trust's regional Health Board partners.
The survey received more than 235 responses across the eight week period, with 94% of respondents believing they had a good understanding of what radiotherapy services are, but also 90% understood the current challenges faced by VUNHST.
The Radiotherapy Satellite Centre will mean that patients will save more than 3,000 hours a year travelling to their appointments, as well as supporting VUNHST's ambition to treat more patients closer to home and in facilities that provide the best care.
Andrea Hague, VUNHST project lead for the Radiotherapy Satellite Centre said, "The amazing work of the radiotherapy team and support services will not change. We are giving them a state of the art environment that means they can continue to do their jobs in a space that is modern, innovative and allows us to transform our services so that they are fit for the future.
"The project is all about building a community and we believe that while patients are receiving treatment, they and their families will feel part of the Velindre University NHS Trust and Nevill Hall Hospital community.
"We know how important community is when it comes to patients and their families, as well as our staff, because this is the glue that binds us together. The satellite centre will be a space where community is at its heart."
As part of the proposed changes to radiotherapy services, the new satellite centre will look to treat 1,000 more radiotherapy patients a year, by supporting the existing Velindre Cancer Centre and subsequently the new cancer centre once it is completed.
From the survey, 93% of the respondents agreed that the satellite centre would improve radiotherapy services and patient outcomes in south east Wales.
The findings and plans have been shared with the three Community Health Councils that represent the Health Boards which would feed into the satellite centre – Aneurin Bevan, Cwm Taf Morgannwg and Powys – and they have given their overwhelming support for the project.
Works for the Radiotherapy Satellite Centre will begin on the Nevill Hall Hospital site in autumn 2022, with the aim of treating the first patient in the summer of 2024.

For more information about the Radiotherapy Satellite Centre project, visit https://velindre.nhs.wales/Transformingcancerservices/
ENDS