Neuro Oncology Team announced joint winners of the Advancing Healthcare Award
We are delighted to announce that the wonderful Neuro Oncology Team have been awarded joint winners of the Advancing Healthcare Award in innovation in neurorehabilitation for their development of the Neuro-Oncology AHP Clinic. This was launched in Autumn last year to improve the provision of supportive care within the neuro-oncology service to ensure patients with brain tumours and their families could access holistic care quickly and at different stages of their illness.
The clinic consists of a Neuro Oncology Clinical Nurse Specialist, Speech and Language Therapist, Dietitian, Physiotherapist and Occupational Therapist.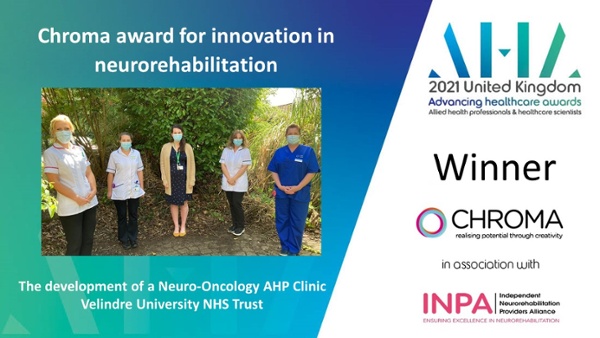 Clinical Oncologist, Dr James Powell said 'We know from patients how beneficial they find this service and we are delighted that the hard work of the neuro-oncology team, and this integrated provision of clinical care, has been recognised and endorsed with this national Advancing Healthcare Award. It has been great to have also presented our work at national meetings and to share our experiences with other neuro-oncology teams in the UK who hope to adopt our clinical model for their centre.'
Specialist Nurse, Rhian Burke also shared some words in response to winning the award, "We are delighted that our vision as a Neuro Oncology team has been so successful and regionally recognised. As a team we are all totally dedicated to improving the lives of our patients and their families. Everyone has been challenged by the Covid 19 pandemic, however we feel thankful as a team, that we have been able to continue with our clinic, enabling us to provide support and a point of contact for patients and their families whilst other support services have been suspended. We are hopeful that our prudent multi-disciplinary way of working inspires other oncology centres to implement our holistic way of working".