How a passing conversation with a patient developed into creating an amazing experience for patients, their loved ones and dedicated staff at Velindre Cancer Centre.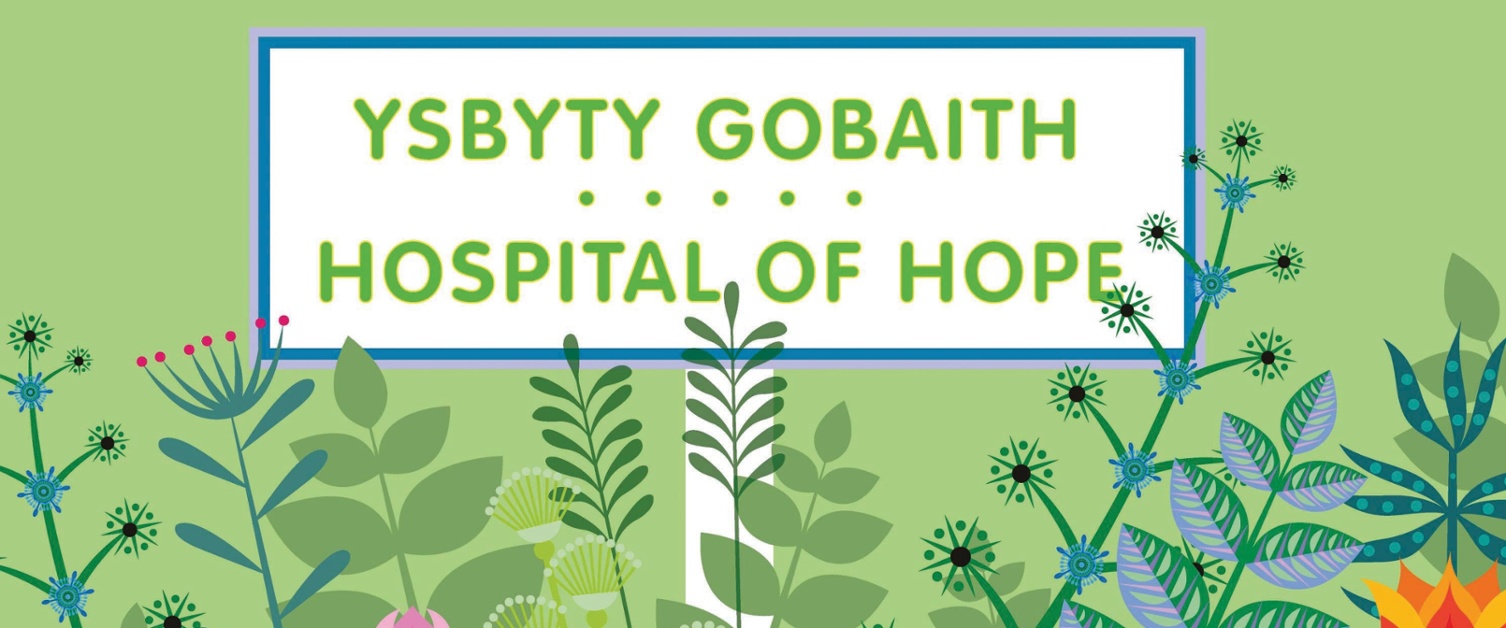 Chris has been undergoing treatment for the last two years and due to the amazing support he has received from Velindre decided he wanted to show his thanks in a visual way.
Firstly Chris and his wife Suzanne hand painted the hospital front doors to create a feel of hope and celebration just before Christmas which was really well received. They did this out of the kindness of their hearts to show what the treatment and support from Velindre has meant to them.
This then extended into Chris and Suzanne coming up with a design that would develop into a full wall art visual for our reception and main entrance to ensure the first impression when entering the hospital was memorable carrying on the theme of 'Hospital of Hope' which is the centre piece of the design. The area just inside the entrance to the hospital was also upgraded and with a theme of "Rays of Hope" was introduced. This area is dedicated to our patients and their families where they can leave a note of thanks or memories and also celebrate the success and end of their treatment by ringing the bell.
Chris Carpenter, patient at Velindre Cancer Centre said, "I have been a patient at Velindre for the last two years and the expertise, care and encouragement I have received from everyone at the hospital has enabled me to come through some challenging times feeling positive and supported. Due to the tireless efforts and commitment of the staff my treatment continued throughout the pandemic and both myself and my family are extremely grateful to all involved.
Myself and my wife work together as a creative partnership known as Patternistas. We have a particular interest in how pattern and colour can be used to invigorate interior and exterior spaces. During our many visits to the hospital we had often felt that, whilst the care was exemplary, the building itself felt drab and tired and did nothing to lift the spirits.
A chance encounter and chat with triage colleague and fundraising ambassador Debbie, whilst collecting in the car park one day, led on to discussions about how we might help inject some positivity into the reception area.
We began with a temporary window drawing on the front entrance doors in December 2020. We created a winter scene that received a lovely reaction from staff and patients alike and this became a catalyst for further discussions with Operations Manager, Stuart Buswell around how we could help transform and refresh the look and feel of the public spaces. The charitable donation from Ford of Bridgend allowed us to design and install cheerful, uplifting wallcoverings and window graphics featuring motifs like forget-me-nots and daffodils that have a particular relevance to the hospital. We have also created new graphics to add energy and rays of hope to the bell areas that are so important for those who are celebrating the end of their treatment.
I have felt privileged to have been treated at Velindre and it has been rewarding to hear that there has already been so much positive feedback from staff and patients."
We would like to extend a special thanks to local marketing and events company Genesis and supporter of Velindre who undertook the incredible installation of the wall art consisting of numerous sheets of wallpaper and window graphics bringing the design to life and putting Chris's designs into reality. Managing Director, Andrew Owen and his team worked out of hours and at weekends in order not to disrupt the daily activities within the hospital to ensure the end result was delivered. We are also grateful to Newmor Wallcoverings who kindly printed the specialist healthcare wallpaper.
The Velindre Fundraising team were involved in securing the incredible funds from Ford Motor Company in order for the designs become a reality and we thank them for their amazing support in this project. The fundraising team told us "We became aware of the Ford fund by Christopher Chick, an employee whose wife was treated here. Chris is extremely passionate about the hospital and wanted us to apply for some funding before Ford closed. He was delighted to hear the amount we received, and even more delighted when they chose to double it."
We are so proud of what has been achieved and the environment this has created for everyone who walks through the door at Velindre Cancer Centre and it's with great thanks to Chris, Suzanne, Andrew, Stuart, Debbie, Velindre Fundraising and Ford Motor Company for making this happen.