Alan Prosser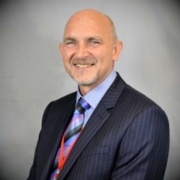 Interim Director of Welsh Blood Service
Born in Wolverhampton Alan qualified from Portsmouth Polytechnic in 1990 with a Geology degree. Following a 2 year period of extensive travel Alan commenced his career in Bridgend and District NHS Trust in the early 1990's working across Bridgend General and Princess of Wales Hospitals. With the formation of Bro Morgannwg NHS Trust in 1999 Alan oversaw the general management of Accident & Emergency, Anaesthetics, Theatres, Surgical Specialties and Critical Care at Princess of Wales and Neath Port Talbot Hospitals.
Alan completed his masters in Healthcare Management in 2004.
Alan joined Velindre NHS Trust in 2008 as the General Services Manager/Deputy Director for Welsh Blood Service overseeing, business support, capital/business planning, business continuity, facilities and IT services and was successfully appointed to the Interim Director position in May 2019.
Alan has a track record in leading complex major change programmes and service modernisation, in particular capital and IM&T initiatives, including workforce changes in partnership with TU's. Alan is passionate about team development and exposing and promoting talent within the service.
In his spare time, Alan enjoys playing competitive squash around south Wales, is an avid music fan and is a lifelong Wolverhampton Wanderers supporter.