Innovation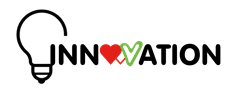 The Innovation Team's remit is to work across the organisation with both workforce, patients and key partners to support the development and delivery of innovation. For more information about how we can support you with a project, please contact the Innovation team using the form below.
Email: Velindre.Innovation@wales.nhs.uk
Tel: 02920 615888
About us
"An idea, service or product, new to the NHS or applied in a way that is new to the NHS, which significantly improves the quality of health and care wherever it is applied."
Innovation in the NHS has to be more than a simple improvement in performance; it needs to be able to be reproduced across similar settings.
Innovation is as much about applying an idea, service or product in a new way, or in a new organisation, as it is about creating something entirely new. Identifying and recreating best practice is a sensible and acknowledged operational approach.
There is an important role for 'reverse innovation', which is the decommissioning of an activity that is shown to have little added value or replacing with something new or better.
Innovation is not just about the originating idea, but also the whole process of the successful development, implementation and spread of that idea into widespread use. There three stages are shown in Figure 1.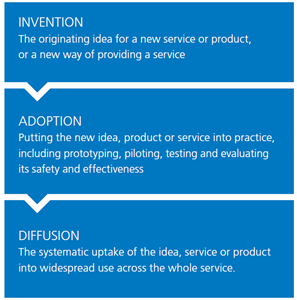 The NHS Wales Planning Framework 2020-23 sets out the importance of innovation within health and care and states that:
Innovation should:
Be organisationally aligned with and follow research, translating new knowledge into better practice.
Aligned with improvement to fully exploit the potential value of new products, processes and technologies…" and that
Some developments will come from our own invention and application, but more will come from identifying, adopting and up-scaling good practice from elsewhere, such as universities and industry partners. Innovation should be a distinguishing character of University Health Boards and NHS Trusts.
Velindre University NHS Trust (VUNHST) strategies and the Integrated Medium Term Plan (IMTP) 2019-2022, describes the role of innovation in this improvement process.
From a cancer perspective, the Trust has embarked on an ambitious programme of work to transform the way cancer treatment is delivered across South East Wales underpinned by the research, innovation, education, clinical excellence.
Welsh Blood Service has continual programmes of service improvements to ensure that the organisation remains fit for purpose, now and in the future. A recent example is Blood Supply Chain 2020 initiative that enabled the realignment of the planning, collection, processing and distribution of blood components to hospitals in Wales.
The Trust has 26-year history of conducting clinical research and has developed an excellent national and international reputation.
Innovation is at an earlier stage of development (4 years) but the organisation has real ambitions to mirror the success. Already there has been a number of successful innovations within VUNHST around key topics including Regenerative Medicine, Advanced Therapies, Artificial Intelligence, Virtual Reality, Data and Informatics spanning across clinical areas and professional disciplines.
Research, Innovation and Improvement Coordination (RIIC) Hubs
Linked with "A Healthier Wales", the Welsh Government Transformation Programme provides funding that has established a nationally coordinated network of seven regional Hubs and NHS Trusts that informs new integrated models of health and social care.
The overarching aim of regionally co-ordinated network of Hubs within Regional Partnership Boards and all Wales' NHS Trusts will be to bring together research, innovation and improvement activity within each Regional Partnership Boards and across Welsh NHS Trusts.
This means regional Hubs and Trust Leads will identify and steer regional research, innovation and improvement activity and collaborative partnerships with the aim of accelerating the change toward higher quality and better value services, including new models of seamless health and social care.
In the first instance Hubs and Trust Leads will focus on identifying existing examples of RI&I activity across regional Partnership Boards and NHS Trusts to evaluate potential impact and the ability for it to be transferred across all partners and scaled up.
The aim of the Trust Lead within Velindre University NHS Trust is to coordinate research, innovation and improvement activity at an All Wales level supporting how health and social care services can work together better.
If you would like to hear more about the above and /or if you're involved in any health and social care research, innovation or improvement projects and would like to work with us to promote your work or to make links with other projects, please get in touch.
How to get in touch
Robyn Davies - Head of Innovation @ Robyn.Davies3@wales.nhs.uk
Ross McLeish - Innovation Project Manager @ Ross.McLeish@wales.nhs.uk
Peter Barrett-Lee - Clinical Innovation Lead @ Peter.Barrett-Lee@wales.nhs.uk
Jodie Sherburn - Innovation and Research Nurse @ Jodie.Sherburn@wales.nhs.uk
Jane Darmanin - Senior Manager in RD&I Partnerships & Engagement @ Jane.darmanin@wales.nhs.uk